Global Exploration of His Imperial Majesty (HIM) Oba Adéyeyè Enitan Ògúnwùsì (Òjájá II), Ọọ̀ni of Ifẹ̀
His Imperial Majesty (HIM) Ọba Adéyeyè Enitan Ògúnwùsì (Òjájá II), Ọọ̀ni'rìsà of Ilé-Ifẹ ascended the most revered and sacred throne of His progenitor Odùduwà as the Spiritual Head of all the Yorùbá people across the world on the 7th December 2015.
Before his coronation, he is regarded with exceptional success stories in various national businesses and international bilateral engagements on behalf of the Federal Government of Nigeria. In 2002, he led the Federal Government of Nigeria (FGN) delegation team to Canada that promoted strategic alliances through a partnership with the Ondo State Government on solid mineral potentials of the State.
Since his coronation about four years ago, His Imperial Majesty (HIM) has made news for number of national and international notable actions such as the global peace and unity initiative.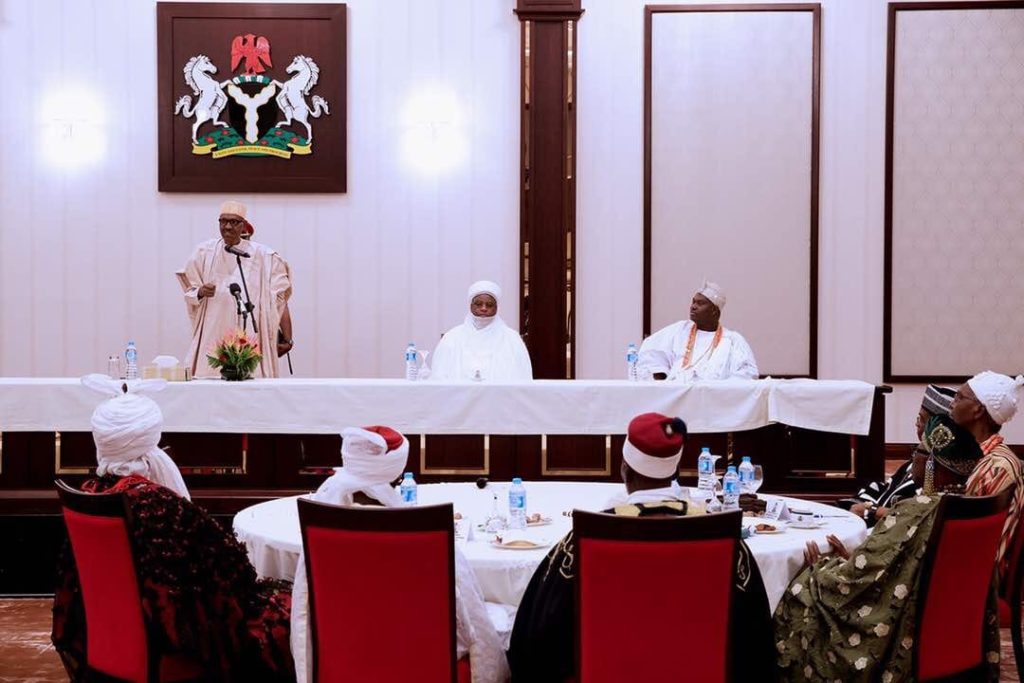 Work as Co-chair of NCTRN
As the co-chairman of the National Council of Traditional Rulers of Nigeria, NCTRN and the spiritual leader to the Yoruba nation, he has been holding numerous constructive and strategic engagements with both national and international institutions whose genuine aspirations align with the vision of His Imperial Majesty (H.I.M).
He passionately advocates for inclusive traditional roles within the context of African political system which can aid rapid economic and socio-political development.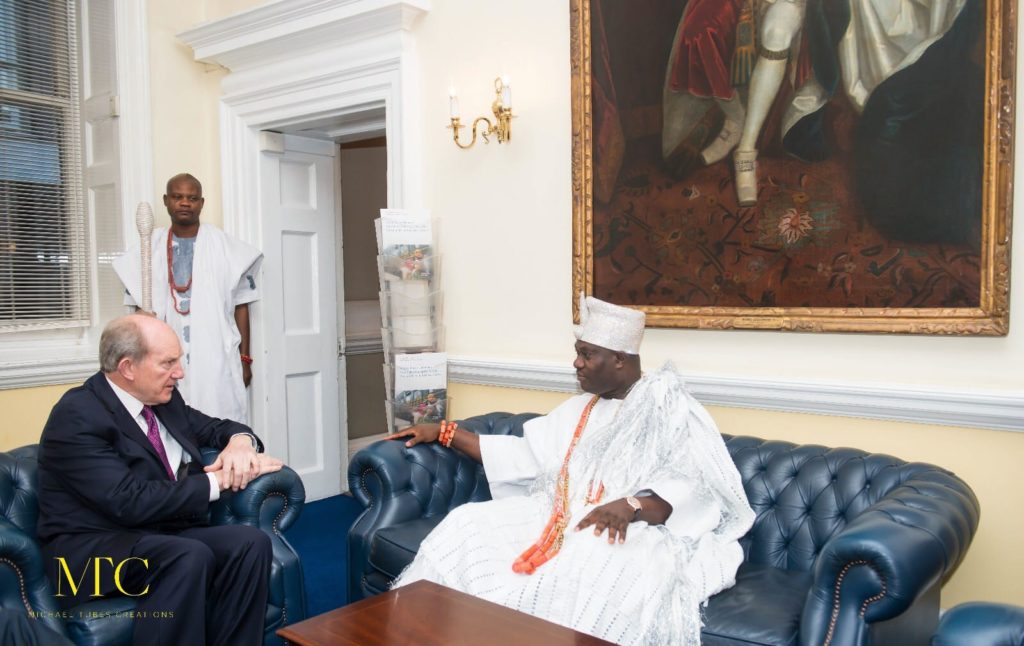 Creation of Global Outreach
His Imperial Majesty (H.I.M) creation of Ooni of Ife Global Outreach (OIGO) is to serve as catalyst that will continue to inspire possibilities and to create a new culture of opportunities by unlocking the untold trajectories of Nigeria greatness through various lenses, energies and strands. Nigeria significant rapid population growth and its future global status is full of excitement, responsibility but should promptly propel cohesive and interconnected approach. 
This is a clear mission statement of His Imperial Majesty (H.I.M) which seeks to support the reconstruction of Nigeria economy, infrastructural development, transforming human capacity, supporting modern knowledge skills acquisition, enriching communities and villages through free healthcare delivery. These are inevitable catalyst for new Nigeria.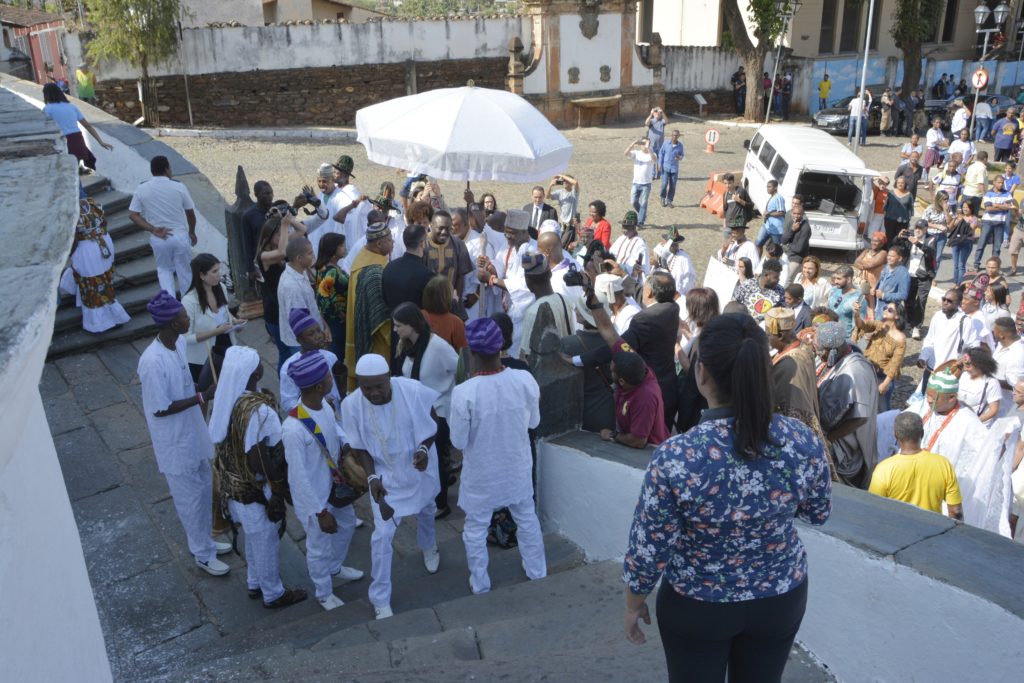 Within the global scope of his Royal mission, His Imperial Majesty (H.I.M) travels across the world preaching unity and peace, resetting age long bilateral partnership in trades and investment, promoting rich history of Yorùbá culture, connecting with governments of countries, foremost royal institutions, mainstream agencies, and cultural institutions where issues of mutually beneficial interest, partnership and collaboration are being discussed.
Through his created multi-purpose vehicles, Ooni of Ife Global Outreach (OIGO), His Imperial Majesty continues to engage global institutions such as Monarchies, political leaders, multinational investment institutions, policy makers, industry and innovation disruptors, global elites Universities, renowned heritage cities, conservations and preservations etc. His historical visits have witnessed remarkable aspirations of building enduring partnerships with  institutions such as Municipal Secretariat of Culture of the City of Rio de Janeiro (where he reinforces the historic ties of Brazil with Africa), British Museum (BM-where he explores strategic pathways towards joint nurturing of African Artefacts and Antiquities), Black Cultural Archives (BCA-where he is designated with an office-Honorary Champion African Culture), Bonhams (one of the world's oldest and largest auctioneers of fine art and antiques) National Museum of African American History and Culture (NMAAHC) where materials of African culture are kept in strategic, constructive and mutually beneficiary discourses.
As the Chancellor of University of Nigeria, Nsukka, His Imperial Majesty (H.I.M) believes that Africa has played and is still playing a pivotal role in global knowledge development. He continues to visit super-elite global universities such as Oxford University, SOAS, University of London, University of Pennsylvania, University of Arts London, etc. where he clearly signals his commitment to pivot the promotion of intercultural discourses and knowledge sharing through transnational research and academic adventure that are capable of enhancing global culture of peace and unity.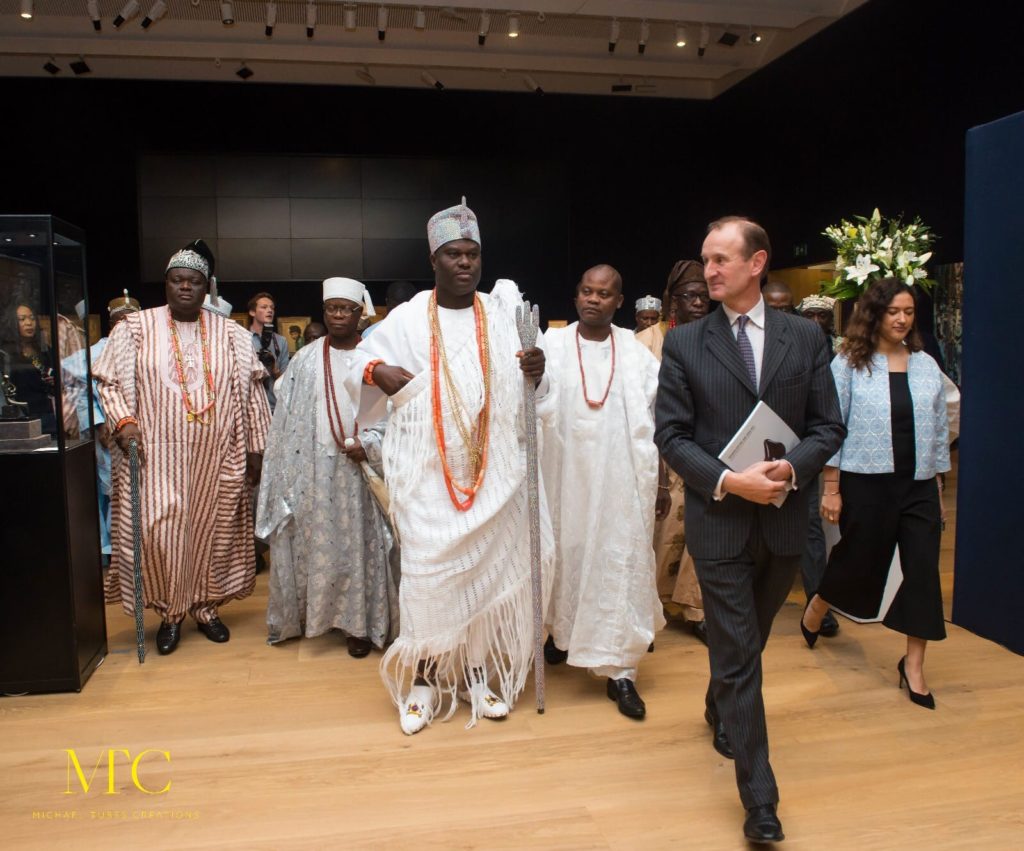 More broadly, His Imperial Majesty (H.I.M) has been charting constructive and exceptional partnerships institutions across the United States of America, Canada and in Brazil to mention but a few. His eloquent delivered speech in 2016 at Pennsylvania House of Representatives in Harrisburg USA where he was given a standing ovation by all Honourable members where he profoundly acknowledged that,
"there is a special insight and value that we gain when we learn from others through humility, exchanges of ideas, seeing life from other perspectives, giving thanks for numerous ways in which our lives are enriched and celebrating the cord of peace and unity that binds us together as a global community".
Ensuring the viability of socio-economies development for millions of Nigerians have become a core mission of His Imperial Majesty (H.I.M). He has been engaging in practicable processes of demonstrating his commitment to lift millions of young people and women out of poverty and to enhance families economic security through social and communities' projects. Within the last three years, his national outreaches through various empowerment schemes have given free equipment to over 20,000 widows in Nigeria to improve small-scale businesses such as those in manufacturing of vegetable oil, cassava flakes processing, palm kernel equipment activities etc.
As an astitute entrepreneur who is championing youth empowerment, he sees creativity and innovation as the motivational emblem for over 65% of this exciting. He has been celebrating the strategic and immense drive that Nigerian youths are injecting into the national economy through the spirit of entrepreneurship and digital transformation etc. which is changing the narratives of youth unemployment in Nigeria. Through his various multi-purpose vehicles, he seeks to shape, remould and support emerging entrepreneurs with pragmatic approach, brilliance and hard work to achieve their desired results. He has a strong bond with millions of Nigerian youth ability to advance, enhance and protect the precious treasure of Nigeria boundless multiplicity as a nation, harnessing the strengths of innovation, deepening the richness of the country commonwealth and heritage.
Above all and rooted in the chronicle, heritage and tradition of Africa, His Imperial Majesty (H.I.M) constantly brings his global audience with the trajectories of peace and unity which is implanted in the sacredness of the Yoruba people, the foundation of which is from Ile-Ife-The land of expansion.